according to CargoLine: environmental, social and economic commitment
All CargoLine partners have agreed on joint values and objectives
As a cooperative of medium-sized, owner-managed transport and logistics services providers we feel closely connected to our respective company locations and the people who live and work there. Therefore we regard sustainability as a triad of ecology, social commitment and economic management:
we want to treat our resources carefully and invest in environ-mental protection measures in order to maintain a world worth living in for future generations.
Moreover, we want to make a contribution towards a balanced society by offering young people training and education and acting as a fair and attractive employer and a support for the weaker members of our society.
All this, however, is only possible if we do business prudently, think in the long term and are a responsible and quality-conscious service provider for our customers.
We do not merely pay lip service to these ideals: more than half of the CargoLine employees took part voluntarily in the development and formulation of our values and objectives. Subsequently the executive directors took the results to all levels of their company and pledged to implement them. As a visible sign of this, posters with these values and objectives signed by all CargoLine partner companies have been put up at all business sites. One value clearly stands out: passion. This emotion characterises everything we do, it gives our actions their special depth. Whether in our day-to-day dealings with each other or at other levels.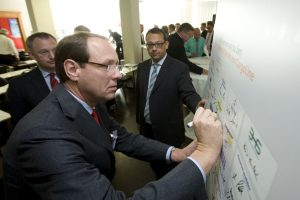 The partners commit themselves to sustainability